Feel free to update your website!
We build powerful content management systems (CMS) Allowing you to update your website easily whenever you want. Our internet application will make you manage your website faster and securely.
A CMS that meets your business needs
Seylis will provide a Content Management System suitable for your business needs. We will install all the components needed to make your business successful and productive.
We will fully customize your CMS platform from the functionalities to the design.
Whether you need to update your site regularly or to automate your business processes, our team can help.
A better way of doing things
We some times use  open source technologies such as PHP and MYSQL. We work with open source because it allows us to deliver quickly fantastic solutions to cost-effective budgets. Open source means the source code is available under the GNU General Public License (GPL) and is not subject to costly licensing agreements. The use of open source will help us save time and money in the implementation of your project. At Seylis we use a lot of platforms such as Joomla, Drupal, Magento, WordPress, Prestashop etc.…
Functionality:  Standard CMS functionality includes:
edit, create and delete pages
add and remove whole sections
change the website structure
upload documents and media
control users
If you have advanced requirements, we will provide you with the most advanced CMS available.
We have more than ten years' experience in developing complex websites, from integrated booking websites, ecommerce sites with inventory management and social media platforms.
Our websites provide an incredible amount of control over design, content and structure, including:
multiple websites controlled by a single CMS
multi-lingual / multi-country sites
highly granular user permissions
versioning and content workflow
front-end editing,
advanced analytics
user-specific content
And much much more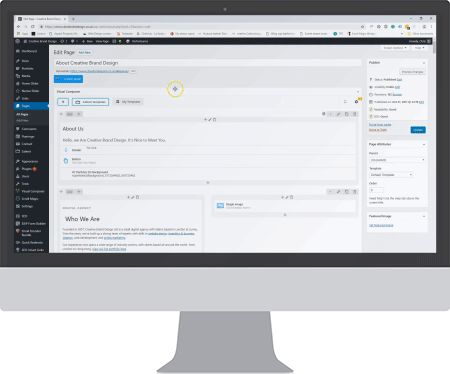 Seylis is a web design agency that integrates open source content management system CMS such as Joomla, WordPress, Drupal, Magento, Typo3, Prestashop, and many other CMS. We have a professional Web design and web development team of more than ten years of experience. Our CMS web design service delivers impressive websites to our clients. Some of our customers got one or two hours free tutorial and are now able to manage their web site day after day as their business grows.
We always let behind us satisfied and successful customers. We listen our CMS (content management system ) clients closely and we work with them to make their dreams come true. We have a wonderful customer service; Our CMS team will always take the time needed to explain you the whole process  step by step as the web design and web development is in progress.
We provide CMS development services in the Montreal region.
Montreal Region : Ville-Marie, Sud-Ouest, Verdun, Plateau Mont-Royal, Rosemont-la-Petite-Patrie, Mercier, Hochelaga-Maisonneuve, Villeray, Saint-Michel, Parc extension, Ahuntsic, Cartierville, Ville St-Laurent, Anjou, Montréal-Nord, Rivière-des-Prairies, Pointe-aux-Trembles, St-Léonard, Île-des-Sœurs, Beaconsfield, Île Perrot, Senneville, Ste-Anne-de-Bellevue, Kirkland, l'Île Bizard, Sainte-Genevieve, Pierrefonds-Roxboro, Baie d'urfé, Montréal-Est, Dollard-Des-Ormeaux, Dorval, Pointe-Claire, Lachine, Ville Lasalle, Centre-ville, Vieux-Montréal, Côte St-Luc, Hampstead, Westmount, Outremont, Montréal-Ouest, Mont-Royal, Côte-des-Neiges, Notre-Dame-de-Grace,West-Island.
Laval : Vimont, Auteuil, Saint-François de laval, Duvernay, Sainte-Dorothée, Fabreville est, Fabreville ouest, Chomedey, Laval-des-Rapides, Renaud , Saint-Vincent de Paul , Pont Viau, Laval-sur-le-lac, iles de Laval, Laval ouest, Sainte-Rose.
La rive sud : Longueuil, Boucherville, Brossard, Greenfield Park, LeMoyne, Saint-Bruno-de-Montarville, Saint-Hubert, Saint-Lambert.